Faculty

Dr. Josiah Osgood
Department Chair
Email: jo39@georgetown.edu
Professor Osgood's research covers many areas of Roman history and Latin literature, with a special focus on the late Roman Republic and early empire. He is the author of several books, including Caesar's Legacy: Civil War and the Emergence of the Roman Empire (Cambridge, 2006), which explores the civil war that followed the assassination of Julius Caesar and the way it was treated in contemporary literature, and Turia: A Roman Woman's Civil War (Oxford, 2014). More recent publications including Rome and the Making of a World State (150 BCE – 20 CE) (Cambridge, 2019) and two co-edited volumes, The Alternative Augustan Age (Oxford, 2019), and Cassius Dio and the Late Roman Republic (Brill, 2019). Professor Osgood enjoys teaching Latin at all levels and in 2011 published a textbook, A Suetonius Reader (Bolchazy-Carducci, 2011) and a translation of Suetonius, How to be a Bad Emperor (Princeton, 2020). Each year in collaboration with Georgetown's Office of Global Education he leads a two-week study tour in Rome.
More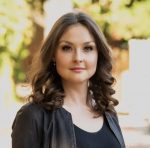 Dr. Claire Catenaccio
Assistant Professor
Email: cc2120@georgetown.edu
Claire Catenaccio is a scholar of Ancient Greek literature, particularly drama, and its modern reception. As a dramaturg and director, she has worked extensively with contemporary stagings of ancient texts. Her first book explores monody, or solo actor's song, in the plays of Euripides (Monody in Euripides: Character and the Liberation of Form in Late Greek Tragedy, forthcoming from Cambridge University Press). She has published articles on dreams in Aeschylus' Oresteia and Plutarch's Lives, on singing heroes in Sophocles' Trachiniae, on messenger speeches in Seneca's tragedies, and on the transformation of the myth of Orpheus in the Broadway musical Hadestown. At Georgetown, Professor Catenaccio teaches courses on the Ancient Greek language, Classical mythology, tragedy and comedy, Homer's Iliad and Odyssey, and Shakespeare's plays set in Ancient Greece and Rome.
More

Dr. Brett Evans
Assistant Teaching Professor
Email: bce3@georgetown.edu
Professor Evans teaches courses in Greek language and literature, equipping students with the linguistic sensitivity to appreciate the rich dialogue between ancient texts and their social, religious, and literary contexts. His research focuses primarily on the social status and function of Greek poets working in royal courts on the margins of the traditional Greek world. He is currently working on a book which examines how poets in Ptolemaic Alexandria competed for status with powerful courtiers by articulating their poetry's value in publicizing their patrons' court to broad audiences across Greece. Outside of Classics, Professor Evans has over ten years of experience advising students in all fields applying to nationally competitive fellowships. like Fulbright. He enjoys introducing all students to the Greeks and Romans and what their cultures offer us in our search for understanding ourselves and our world today.
Brett Evans's areas of expertise include Greek and Latin literature, chiefly Hellenistic poetry; ancient court societies; Greek Epigraphy; and textual criticism.
Contact: bce3@georgetown.edu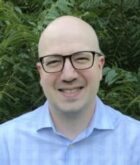 Dr. Justin Haynes
Assistant Professor
Email: jh2255@georgetown.edu
Professor Haynes enjoys teaching Latin at all levels alongside courses in translation that explore the legacy of classical culture more generally. He is particularly interested in how classical literature has been interpreted and valued in the millennia since its creation. He is the author of The Medieval Classic: Twelfth-Century Latin Epic and the Virgilian Commentary Tradition (forthcoming from Oxford) which examines one especially intense moment of creative imitation of the Aeneid when poets competed against each other to outdo Virgil at his own game in his own language. He is currently finishing a book on Petrarch's indebtedness to earlier medieval Latin poets in his epic, the Africa, a work sometimes considered a harbinger of the Renaissance and a return to a more classical style. Professor Haynes has translated and edited many Latin works to make them more accessible to the wider public. With Ralph Hexter and Laura Pfuntner, he translated and edited Appendix Ovidiana, a collection of Latin poems attributed to Ovid in the Middle Ages, in the Dumbarton Oaks Medieval Library series (Harvard, 2020). With David Traill, he translated and edited Twelfth-Century Anthologies from Ripoll, Regensburg, and Chartres in the Dallas Medieval Texts & Translations series (forthcoming from Peeters), and, with Frank Coulson, he is currently translating and editing Pierre Bersuire's Moralized Ovid, a compendium of allegorical interpretations of myths organized around Ovid's Metamorphoses, for the Dumbarton Oaks Medieval Library. He is also working on a new critical edition of the Gospel of Nicodemus with colleagues in the Association pour l'étude de la littérature apocryphe chrétienne (AELAC).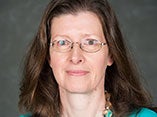 Dr. Catherine Keesling
Professor of Classics
Email: keeslinc@georgetown.edu
Professor Catherine Keesling is the author of The Votive Statues of the Athenian Acropolis (Cambridge 2003) and Early Greek Portraiture: Monuments and Histories (Cambridge 2017). Her principal area of interest is the literary and epigraphical evidence for ancient Greek sculpture and sculptors in the Archaic, Classical, Hellenistic, and Roman imperial periods. Her current research concerns sculptural collections in late Hellenistic and Roman Greece and Asia Minor, the reuse of earlier statues and monuments in Roman Greece, familial portrait groups in Greek sculpture, and Greek commemoration of the Persian Wars. She enjoys teaching courses on Greek art and archaeology, Greek history, Greek religion, the cities and sanctuaries of the ancient Greek world, and Herodotus.
More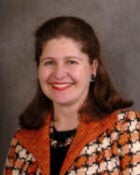 Professor Ismini Lamb
Associate Teaching Professor
Email: lambi@georgetown.edu
Ismini Lamb is the Director of the Modern Greek Studies Program. She offers courses on Hellenic identity, history and culture, including World Visions of Modern Greece, Greek Society and Popular Culture, Byzantine History and Civilization, and The Orthodox Faith in Greek Culture. Her research interests include Hellenic identity and expression, national and ecumenical Hellenism, and social and humanitarian issues in contemporary Greece following the financial and refugee crisis. Currently, she is completing the authorized biography of George Horton, the American philhellene, classicist, poet, best-selling author, diplomat, ethnographer, and humanitarian. She has been teaching the Greek language and culture for thirty years at Georgetown, founded and mentors the Georgetown Hellenic Association, and loves sharing her appreciation of the continuity of Hellenic civilization from antiquity to the present with students. She teaches all levels of the Modern Greek language and speaks frequently on Greek culture, history and current events.
More

Dr. Charles McNelis
Professor
Email: cam72@georgetown.edu
Professor McNelis primarily teaches courses in Greek and Roman literature, both in translation and in the original languages. He is particularly interested in the epic poetry of authors such as Homer and Vergil and their portrayals of human endeavor within political and religious contexts. The literature in translation courses take as a starting point the ways in which other ancient artists (e.g. Euripides, Ovid, Lucan, Apuleius) and/or literary genres (elegy, satire, drama) poignantly responded to and transformed these culturally powerful texts. Study of stylistic and thematic points of these texts in Greek and Latin affords an even deeper understanding of these works. These kinds of intellectual concerns are reflected in many of his publications, including his book entitled 'Statius' Thebaid and the Poetics of Civil War (Cambridge, 2007) and his ongoing commentary on Statius' Achilleid, a poem which takes as its subject Achilles, the greatest Greek hero.
More

Dr. Marden Nichols
Provost's Distinguished Associate Professor
Email: mn589@georgetown.edu
Professor Nichols primarily teaches courses in Latin literature and Roman art and archaeology. She is the author of Author and Audience in Vitruvius' De architectura (Cambridge, 2017). A second, co-authored monograph, Imagining Rome's Foundation in Ancient Visual Culture, will soon appear from Routledge. A scholar of image and text, she enjoys teaching Latin at all levels, alongside courses on ancient Roman architecture, urbanism, and art. Her articles and book chapters span a range of topics, including Roman comedy and satire, attitudes surrounding luxury building and Greek plunder during the Roman Republic, and the "Pompeian" style in American interior design. She came to Georgetown from the museum world, having previously worked as a curator of ancient art.
More

Dr. Victoria Pedrick
Associate Professor
Email: victoria.pedrick@georgetown.edu
Professor Pedrick primarily teaches courses in Greek and Latin language and literature, with a particular interest in Archaic and Classical Greek literature and culture. She also teaches an introduction to Classical myth. In all her courses, she encourages students to focus on the audience and cultural contexts for ancient texts, including when appropriate modern engagement. She has published essays on Homer, Greek Tragedy, and Latin Lyric as well as two volumes on tragedy, one a collection of essays and the other a study of Euripides and Freud.
More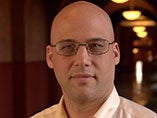 Dr. Alexander Sens
Markos and Eleni Tsakopoulos-Kounalakis Professor of Hellenic Studies
Dean, Graduate School of Arts & Sciences
Professor Sens primarily teaches courses in Greek and Latin language and literature. He is particularly interested in the way that poets locate themselves in an ongoing literary tradition by alluding to and engaging with the works of their predecessors. In courses in translation, he is interested in introducing students to the ways in which ancient authors both created and played with the boundaries of genre. His goal is for students at all levels to be able to think independently about the ways in which ancient authors defined their own projects against the background of the various literary traditions they were working with.
More